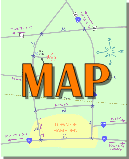 Huntley Field has a 400' x 60' grass runway and a generous 300' pit area with runway access from any of 6 taxiways. The club owns its own lawn tractor and other grooming equipment to maintain the field. For amenities we have several picnic tables and a beautiful setting.

Visitors are welcome! If you want to see some flying or meet some club members, the best time to visit is on Saturday morning. AMA members can fly as guests of the Gulls without charge (limited to two consecutive days per month). See the printable map for directions to the field. Please heed the 5 MPH speed limit on the field access road.

Hope to see you there!